When he was 15, after two years of playing the banjo, Tim visited New York city and was invited to play at "Your Father's Moustache" with the band for the night. It was an unforgettable musical experience for a young banjo player. (Right)
That year, Tim wrote the school song for Silverthorn Collegiate, his high school. He has written many songs since, some of which can be found on the albums on the merchandise page.
Tim's first professional music job came the following summer, when he was 16, performing nightly at a resort hotel at Mont Tremblant, Quebec, close to his family cottage on Lac Tremblant.
After completing high school, Tim took a year off to travel and play his guitar and banjo at clubs in Vero Beach, Florida, Los Angeles, California, and in Honolulu, Hawaii.
He returned to Toronto in the fall of 1968 to study science and music at the University of Toronto. Tim paid for his tuition and living expenses by performing at local Toronto venues on weekends. He also enjoyed playing his banjo with the lively U of T engineering band called the The Lady Godiva Memorial Band.
In the summer of 1970, Tim travelled around most of Europe playing at coffee houses and doing some recording in London, England, with one of Rod Stewart's record producers.
Back in Canada again, Tim continued to perform as a solo player in the Toronto area.
For a change of pace, he accepted a music job in January 1972 playing the mandolin and banjo in a modern play called "Memories for my Brother". This play, held at the St. Lawrence Centre in Toronto, showcased such actors as Gail Garnett, Saul Rubinek, and Jonathan Welsh.
Soon after, Tim was hired to provide political campaign music and found himself performing for Canada's Prime Minister, Pierre Trudeau.
Tim was then invited to play banjo in a show band called "Kitty Meredith and her Banjos and Brass". (Right) He worked and recorded an album with them from 1973 to 1977, on long engagements at various Toronto hotels (including the Royal York, Skyline, and the Holiday Inn). This band also toured western Canada during the summer fair season, and even made trips to Acapulco, Mexico, and London England.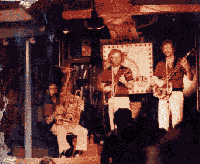 click photo to enlarge
In 1977, Tim formed "Bass-ically Banjos" with two other musicians from the larger showband Gordon Fudge (tuba) and George Mitchell (banjo). (Left) They recorded two television shows with jazz vibraphonist Peter Appleyard in Toronto.
In the summer of 1977,Tim performed "The Poet and Peasant Overture" to help him win the championship in a North American banjo competition held in Durham,Ontario, just north of Toronto.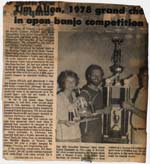 The following summer of 1978 he again entered this competition, playing "The William Tell Overture" for which he received the trophy for Grand Champion. (Right) After that second win, Tim was asked to be a judge at this annual competition.
1978 was a good year for Tim. He entered a cross-Canada talent contest sponsored by the DuMaurier Tobacco Company and won an award of merit playing the "Poet and Peasant Overture" on the banjo.
Around this time, Tim was contracted to perform on a Greek cruise ship, touring the eastern Mediterranean from Athens, through the Greek islands to Turkey and Israel.

click photo to enlarge
Back from the cruise, Tim then performed at a concert in Cincinnati where he met a banjo maker named C.C. Richelieu. This gentleman admired Tim's work and provided him with his top-of-the-line Richelieu banjo. (Left) Tim still plays and endorses this beautiful banjo.
Topping off 1978, for Tim, was the invitation to sing bass and play banjo, mandolin, and guitar on CBC television's popular "Tommy Hunter Show". (Below, left and right) Tim appeared as a cast member on this program for 14 seasons until it ended in 1992. This long lasting show hosted country music's top performers, and was seen weekly across Canada and through most of the USA.
Aside from television taping, Tim continued to do studio work for records (Sesame Street's Bob McGrath, Sharon, Lois and Bram) and television commercials as well as television and movie soundtracks (including NBC's miniseries' "No Greater Love" and CBC's "Music of Man").
Tim had the opportunity of appearing in the movie Palais Royale, starring Kim Catrall (of Sex in the City). On one of his California Tours, Tim met Clint Eastwood when he performed at the celebrity's Mission Ranch in the Monterey area.
Tim also enjoyed working as a soloist and performed at many Toronto hotels and clubs on long steady engagements. One notable engagement in Oakville, Ontario (a suburb of Toronto) kept him busy six nights a week from 1987 to 1992, primarily playing guitar in the restaurant and lounge of Verdi's, an upscale Italian dining spot. Because of this employment, Tim ultimately made Oakville his home.
Tim has enjoyed teaching music since he was 12 years old. Since 1979 he has also contributed workshop articles on banjo, guitar, and mandolin to a bimonthly magazine (Allfrets) distributed by the Fretted Instrument Guild of America (FIGA). Tim has appeared on its cover, as well as on the cover of the now defunct International Banjo magazine.
click photo to enlarge
From his years of contributions to FIGA, Tim, in 1989, compiled an instruction for the tenor banjo called Tim Allan's Notebook. He now sells this book by mail order. Tim also makes workshop contributions to The Resonator, a seasonal four string banjo newsletter. He still continues to give workshops and private lessons on banjo or guitar, mandolin and ukulele.
Since 1980, Tim has also recorded seven of his own albums, which he sells at concerts, and by mail order. He has also produced many educational CDs and Boks for banjoists and other musicians.
Tim appears every year as a featured banjo artist at various banjo gatherings around the United States, Canada, and Europe. He also has his own one-man show, which he performs on cruises, at theatres, and for conventions, playing guitar and banjo. His acoustic music covers all genres, appealing to the whole family.
click photo to enlarge
In 1998 and 1999, Tim returned to Toronto's CBC television studios to perform at the tapings of The Royal Canadian Air Farce. The two man group, consisting of banjo/guitar and tuba (Scott Irvine), is called the AirFarce Symphony Orchestra.
On May 23, 2002, Tim Allan was inducted into the National Four-String Banjo Hall of Fame Museum in Guthrie, Oklahoma for his performance work. (click here to view view some of the pictures from the ceremony... or visit the museum's website)
click photo to enlarge
In 2002 Tim became an artist representative for "Weber" mandolins, built by Bruce Weber, whose company is called "Sound To Earth" in Belgrade, Montana [their contact information is available in the links section of this website]. The picture to the right shows Tim with the octave mandolin, "Fern" model, which Bruce Weber made for him. Tim has tuned it to the higher mandola tuning, C, G, D, A, identical to the tenor banjo. The beautiful rich sound is enhanced by Tim's choice of using octave higher strings on the third and fourth pairs of strings - similar to a 12-string guitar.
Tim's recording of this instrument, Beautiful Mandolin is available in the merchandise section.
In October 2002 Tim was invited to perform and give banjo workshops at the "International Banjo Festival" in Duisburg, Germany.
Every May/June since 2002, Tim and his wife Nida returned to Southern Germany and Switzerland where Tim performed concerts and gave several banjo workshops. More return trips to Europe are planned for performances and workshops. Please see below for images images of Tim's 2005 European tour.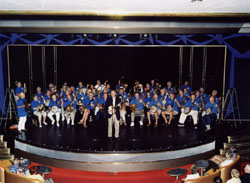 click photo to enlarge
In January 2004, Tim played a solo concert on the Holland America cruise ship M.S. Zaandam, which departed Port Canaveral, Florida, and toured the Eastern Caribbean. Tim was hired by "Jazz Sea Cruises" to perform as well as to conduct and give workshops to the group of 60 amateur banjoists from across North America who wanted an opportunity to 'jam' and perform in luxurious surroundings. The photo (right) shows Tim and the newly created "Banjos Aweigh" band performing a 69 song concert on the last day of the cruise.
click photo to enlarge
Tim returned to the January '05 Jazz Sea Cruise to perform, teach and conduct banjo players (Left) - this time on Holland America's M.S. Rotterdam which left Ft. Lauderdale, Florida and toured the Southern Caribbean for 10 days.
In May and June of 2005 Tim again performed in Germany with guitar and banjo, but this time he gave a guitar workshop in Pforzheim, Germany, instead of the usual banjo workshop.The following 3 pictures were taken at Tim's workshop held at, and arranged by Musik-City Steinbrecher.
click photos to enlarge
Tim with with store owner Frank Steinbrecher, who arranged theworkshop, of Musik-City Steinbrecher, Pforzheim, Germany (www.musik-city.com)
On August 20th, 2005, Tim performed on Banjo with Chris Barber, the famous English Trombonist/Band Leader with Jeff Healey and the Jazz Wizards at Healey's Bar in Toronto. Click here to see the video.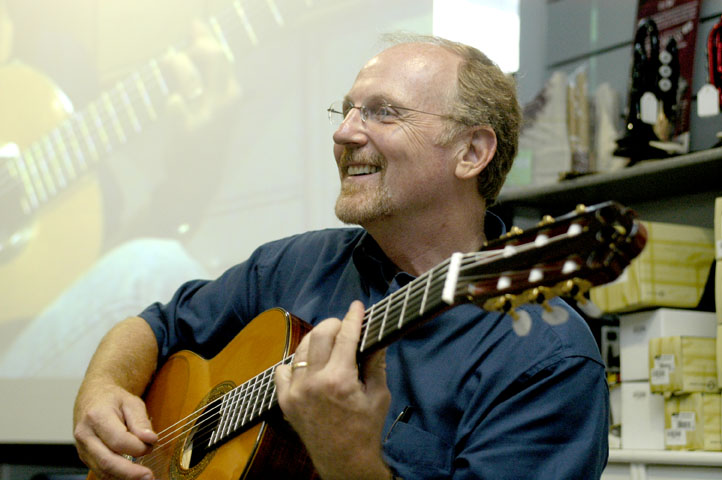 Tim's BANJO HALL OF FAME INDUCTION
Sept. 11, 2015
On September 11, 2015, Tim Allan was inducted into the American Banjo Hall Of Fame in Oklahoma City for the second time, along with other notable inductees such as PETE SEEGER and STEVE MARTIN.
Tim is one of only three inductees who have won this privileged honor of re-induction since the founding of the Banjo Hall of Fame in 1998.
In 2002, Tim was inducted in the category of "Performance" (L) and in September, 2015, he was inducted in the category of "Education"(R).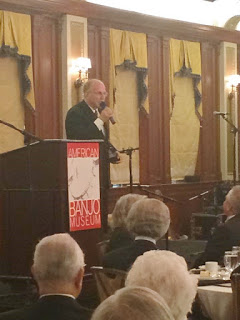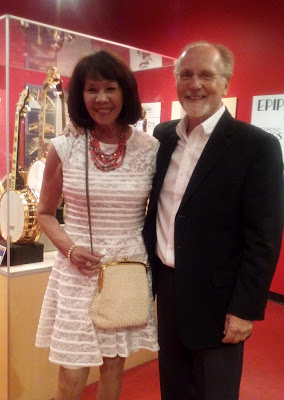 Tim and Nida enjoyed the display of vintage banjos.
Tim's 2015 Hall Of Fame Induction video is found here on YouTube:
The day after the ceremony, inductees had a chance to perform in the Banjo Museum's entertainment room. Tim enjoyed playing two songs with the Banjo Museum's owner, Jack Canine.
Tim's updates since 2006 can be found at timallan.blogspot.com